Disposable Vinyl Exam Gloves
2020-12-31
The DuraTec® powder-free vinyl exam gloves are made of new and improved materials, bringing a lighter and softer feeling than previous products, while ensuring good performance.The DuraTec® disposable vinyl exam gloves are strongly recommended by most of the medical workers.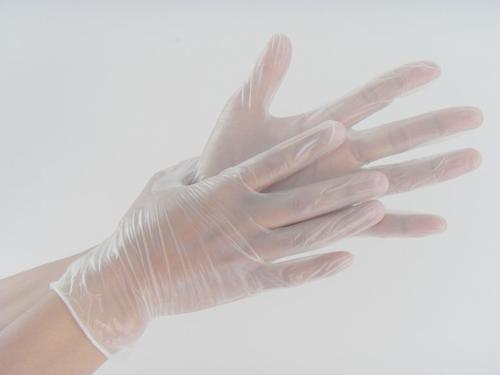 1. General Information
· Name: Disposable Vinyl Exam Gloves
· Type:Non-sterilizing
· Material:PVC
· Shelf life:5 years
· Storage:Keep away from light,moisture,high temperature and ozone.
2. Features
· 100% brand-new formula to enhance softness and fitness
· Higher tensile strength and more tactile sensitivity
· DOP or DEHP free
· No latex protein to cause allergy
· Dry and smooth coating to avoid dermatitis
· A variety of colors available for different people or industries
3. Quality Standards
· Complies with EN455 and EN 374
· Complies with ASTM D5250(USA Related product)
4. Applications
· Medical Purpose/Examination
· Industrial Purpose/PPE
· Laboratory
· Healthcare and nursing
· General housekeeping
· IT Industrial
5. Specifications

| Item No. | Color | Size | Package | Box Size(mm) | Carton Dimension(mm) |
| --- | --- | --- | --- | --- | --- |
| VS-1000* | Clear | S-XL | 100pcs/box;10boxes/ctn | 230*125*60 | 315*258*245 |
| VS-1006* | Light Yellow | S-XL | 100pcs/box;10boxes/ctn | 230*125*60 | 315*258*245 |
※
The last "*"means size 4-S 5-M 6-L 7-XL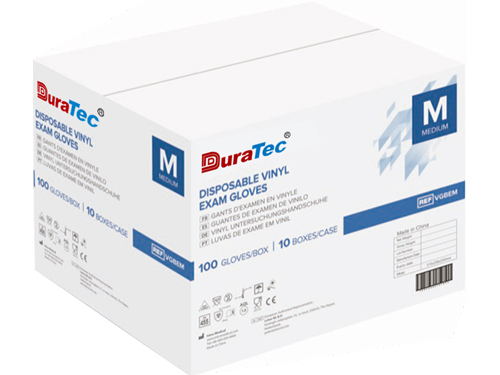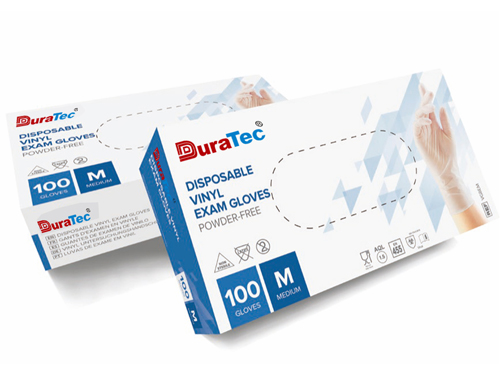 To understand details of our products, please:

-Call our service hotline 0086-533-3153897, Mobile Number 0086 152 6937 8099,0086 139 6939 1323
-Send email to info@duratec-ceramic.com
-Chat with us via WhatsApp: 008613969391323